This needs help.
Needed: Most of the page
Tom Thumb (in German: Der Däumling) is the episode two of season one of SimsalaGrimm series.
This time Magical book throws Yoyo and Doc Croc on a teeter that some children played on. Then the two children don't want to hang out with Yoyo and Doc Croc so they start to laugh, but then Tom shows up and children are surprised at first, but later they laugh at him because he is just as tall as a thumb. The children are still mocking to the thumb, but Croc took out some scary mask and gave it to Yoyo who shows it to them. The children are gone now. Tom Thumb thanked them and asked him to stay with his family. They agreed and went to eat the dinner. Yoyo and Croc were telling Tom and his family about the wizard they defeated in other adventure, then Tom wished that he could do the same. Even though they are little, Tom said that they could be like three musketeers. The next morning, they woke up and went to swim in barrels, but Tom falls into a well accidentally. Croc pulled him with a rope and thank God, Tom was alive.
Please continue the plot here!!!!!! Edit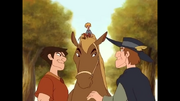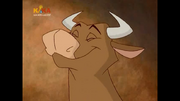 Cast & Characters
Edit
Locations
Edit
Notes/trivia
Edit
In the original story of Tom Thumb, the cow that swallowed him was killed by the host family because they thought that the cow was possessed by the devil.
In Other Languages
Edit
German: Der Däumling
Croatian: Palčić
Romanian: Tom Degetel
Polish: Tomcio Paluszek
French: Tom Pouce
Finnish: Pekka Peukaloinen
Insert details here.

External Links
Edit