Little Red Riding Hood is the seconed episode of the simsala grimm seconed season .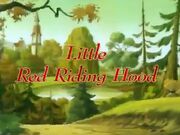 A real French Marquis in the middle of a German forest? To Doc Croc that seems a little suspicious. And his doubts prove correct, for the Marquis is nothing but a sham. Undermeath the wig and the chic accent hides nobody else but the big bad wolf. 
  In her nalvete Litle Red Riding Hood doesn't see the danger and falls for the charm of the ingenious beast. Yoyo and Doc Croc are clueless: how do you warn someone who doesn't want to be warned ? 
==
 ==