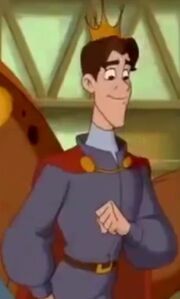 King
is the main guest character of season two finale, episode thirteen
The Goose Maiden
.
Physical Appearance
Edit
He has a defined long face shape with pointy nose. His hair is brown and so are eyebrows. He has big eyes and small lips. In the only episode The Goose Maiden that he appears he wears long golden crown showing he is the king. His outfit is Middle Ages style. Long red cloak with golden buttons that merge it, blue shirt with light blue turle neck under it and brown belt around it. He also wears ocher colored leggings and brown shoes. His figure is skinny.
Personality
Edit
Insert details here.
Voice actors
Edit
Insert details here.
In Other Languages
Edit
Insert details here.
Show Appearances
Edit
Other Appearances
Edit